Nebraska National Forest-Bessey Tree Unit
As you make your summer travel plans be sure to include a stop at the Nebraska National Forest – Bessey Unit, just west of Halsey, on the Sandhills Journey Scenic Byway, for wonderful views, hiking trails, and outdoor adventures!
Millions of Nebraska trees took root thanks to Bessey
Special for the University of Nebraska-Lincoln
Feb 3, 2019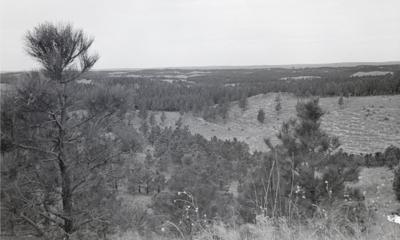 One might not expect the United States' first and largest planted forest to be in Nebraska, but the 222-square-mile Nebraska National Forest holds that distinction.
Established in 1907 near Halsey, the forest is a testament to the passion and drive of botany professor Charles E. Bessey, the father of modern botany and a pioneer in agricultural extension.
Born in Ohio and educated at Michigan State University, Bessey came to the University of Nebraska in 1884 with a vision for students to learn by observation and experimentation. He replaced a curriculum then heavy on library reading, lectures and recitations with lab and field studies.
Acclaimed for his devotion to his students, Bessey taught more than 4,000 of them over a 45-year career, many hundreds of whom made significant contributions to the sciences. Bessey's students developed the disciplines of plains ecology and range management and advanced the fields of agronomy, plant genetics and crop physiology.
In 1887, Bessey helped enact the federal Hatch Act to fund agricultural research and create the nation's first agricultural experiment station. The impacts of his experiments in tree planting followed. The Nebraska National Forest had its roots in the establishment of the Charles E. Bessey Tree Nursery in 1902. The nursery delivered nearly 2 million low-cost trees to Nebraskans for establishing windbreaks, shelterbelts and farm wood lots between 1912 and 1924.
Today, the Bessey Nursery supplies seedlings for spring planting to five national forests in the Colorado Rocky Mountains, as well as the Black Hills National Forest and the Kansas Forest Service. The Bessey Herbarium at the University of Nebraska State Museum holds more than 310,000 plant specimens, providing abundant research opportunities for the state's future botanists and the international community through its online digital collections.